Start Tracking today.
It's Free!
Login
Start Tracking today.
It's Free!
Free AED Management
Receive notifications for expiring supplies
Ongoing customer support
Online reports and resources
Peace of mind
Let's get started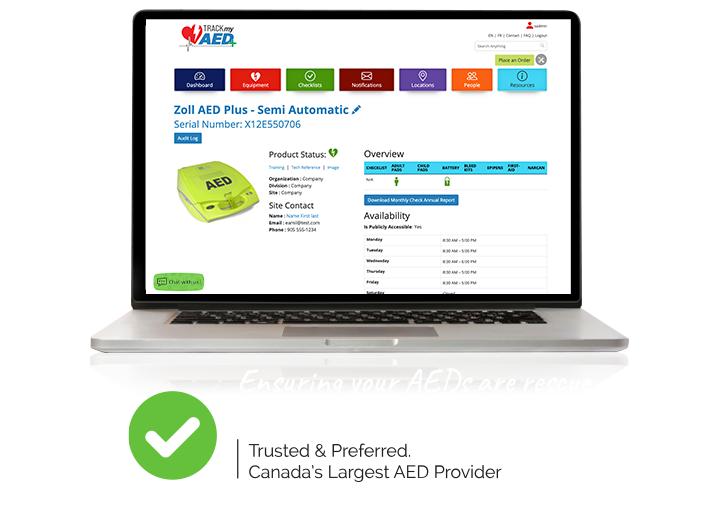 TrackMyAED Plus
Now available for FREE for all AED4Life valued customers.
Not a customer of AED4Life? Contact us to see how we can manage and track your AED at no charge.
Key Features
Register an AED
If you would like to register you AED with TrackMyAED, please fill out the registration form. A TrackMyAED representative will contact you to confirm your registration.
Registration Form
Our easy to manage, web-based monitoring system provides you with up-to-date, real time status of all your AEDs. It also tracks monthly inspections and keeps you informed of any expired pads and/or batteries. In addition, the system will track and manage the training status of your trained staff.
Getting your AED(s) into the system is quick and easy. Once your AED is entered, users have the ability to:
Add and edit all data
View important AED information
Track staff training
Downloaded detailed reports
Contact us to help you manage your AED Program for FREE. If you did not purchase your AED from us, we can help you manage your organization's AED program. Please contact our friendly customer service
Contact us today!
Lets get Started
Step 1
Our trained staff will help you select the best AED for your needs and help you determine the best placement within your facility.
Step 2
Our educators will train your staff to ensure they are prepared with the required knowledge to be rescue ready in case of an emergency.
Step 3
TrackMyAED Plus will automatically notify you when your AED requires attention and when trained staff is in need of recertification.
Supporting All Health Canada Approved Brands